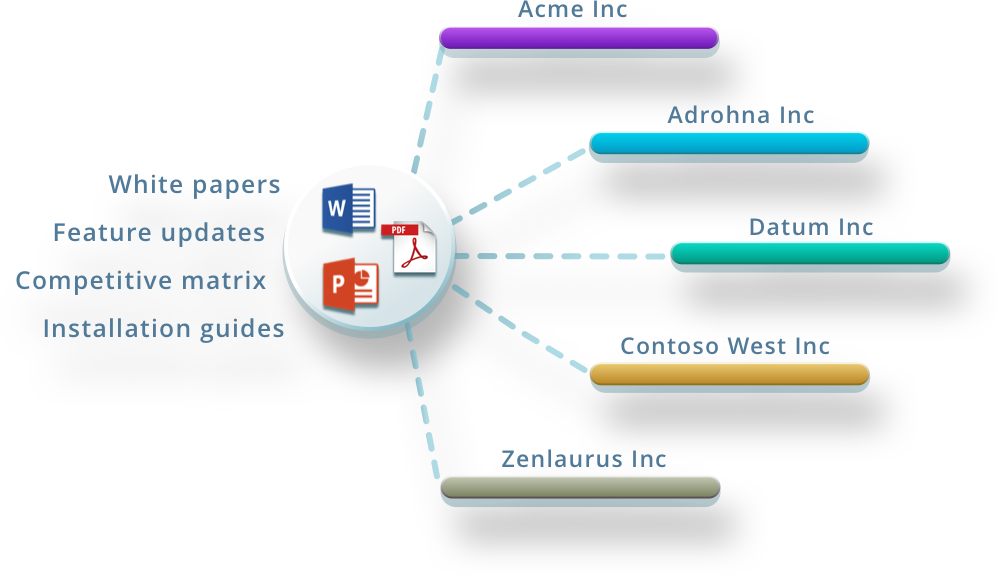 The market is at a nascent stage and is growing rapidly, according to Gartner's "Market Guide for Digital Content Management for Sales."
How to keep up with the velocity of customer engagements using the content
Intelligent automation to augment sales using machine learning and artificial intelligence like "Content recommendations based on predictive analytics" are not yet common to all vendors but will become a mainstream offering within the next two years. Ref: Gartner: Market Guide for Digital Content Management for Sales, Date 13th Oct 2016, 451 Research: B2B sales engagement tech: analytics, intelligent automation and sales enablement, Date 2016
Sales people excel in selling, and automation should help them stay focused. Any assistance to help them build a credible relationship with customers starts with engaging with valuable content.
The industry is innovating rapidly; Customers have a plethora of choices to choose from, and we build content to help assist a sale or keep an existing customer fully informed. This content has a short shelf life, and whenever it doesn't get used within the window of time, it becomes virtually valueless. Knowing about and using all the relevant content that is available is daunting and elusive.
Current solutions
The first generation of automated solutions can recommend content by analyzing several parameters from CRM platforms. Rules have to be written with actions for desired results. These solutions are only as effective as the accuracy of the parameters and the resilience of the rules in consideration. This technique of automation is not scalable and creates yet another process that requires administration and supervision. Like any other process involving human contribution, it has bottlenecks and will soon get into catch-up mode trying to keep up with the pace of the organization.
Key trends to embrace
File sharing and synchronization solutions or EFSS applications like Box, Sharefile, and OneDrive play an indispensable role as Content Repositories for Digital Content Management in sales. Though they have not explicitly been designated for this purpose, they bring immense value because they truly democratize knowledge in an enterprise. As a result, knowledge is no longer locked away in islands; it can be shared easily and seamlessly across geographical and organizational boundaries. Let us take, for example, a globally-operating telecom equipment provider's operations in Australia that has a recent customer win; they publish the success story on Box, OneDrive or Sharefile app, and another team in Denver can seamlessly and promptly access it. The industry is innovating rapidly, and customers now have a plethora of choices; content plays a crucial role in assisting a sale or keeping customers informed. Therefore, content has a short shelf life, and if it goes unused within the window of time, it becomes virtually valueless. Wouldn't it be wonderful if "Content Delivery" can spontaneously work off where the EFSS solutions have left off without requiring a process intervention? For example, what If the newly-shared content can instantly find its way into a relevant customer conversation in Denver for the same Telecom equipment provider? It should be about customer recommendations The right approach for "content recommendation based on predictive analytics" for Customer-facing selling, partner relationship management, internal knowledge transfer or SDR process should be about the customer.
It is not about the content but about the customer; this orientation is critical to bringing tremendous value to "customer-facing" selling. Present the list of customers by bringing the recommendations directly into the "opportunity management process" like an email thread. Customer recommendations will open a world of possibilities with a single click.
What should a true "Content Recommendation" engine be doing?
1. Use engagement dynamics from emails: For an accurate and scalable solution, drive the content recommendations by bringing in the knowledge about the customer from the "Opportunity management process," such as emails. Let the engagement dynamics dictate the recommendations rather than CRM-driven parameters whose updates could be lagging behind or create bottlenecks with a human intervention like adding meta-tags.
2. Provide on-demand curation in customer context: To keep up with the velocity of engagements, content curation should be done within a customer's context. Give the ability to curate by discussing with the content creator or team members against the backdrop of conversations with the customer to significantly improve the quality of the recommendations.
3. Render actionable recommendations in-line: Bring the recommendations in-line into their current and prevailing "Opportunity management process," such as emails, so that the sales team can stay focused. For greater adoption, artificial recommendation engines should do their magic behind the screens and not require the users to adapt to new tools or new practices.
4. Take advantage of the rich EFSS content: It is essential to bring the democratized knowledge that EFSS apps carry into a customer engagement realm seamlessly because the new and relevant content is shared in EFSS apps periodically.