By Ram Jayam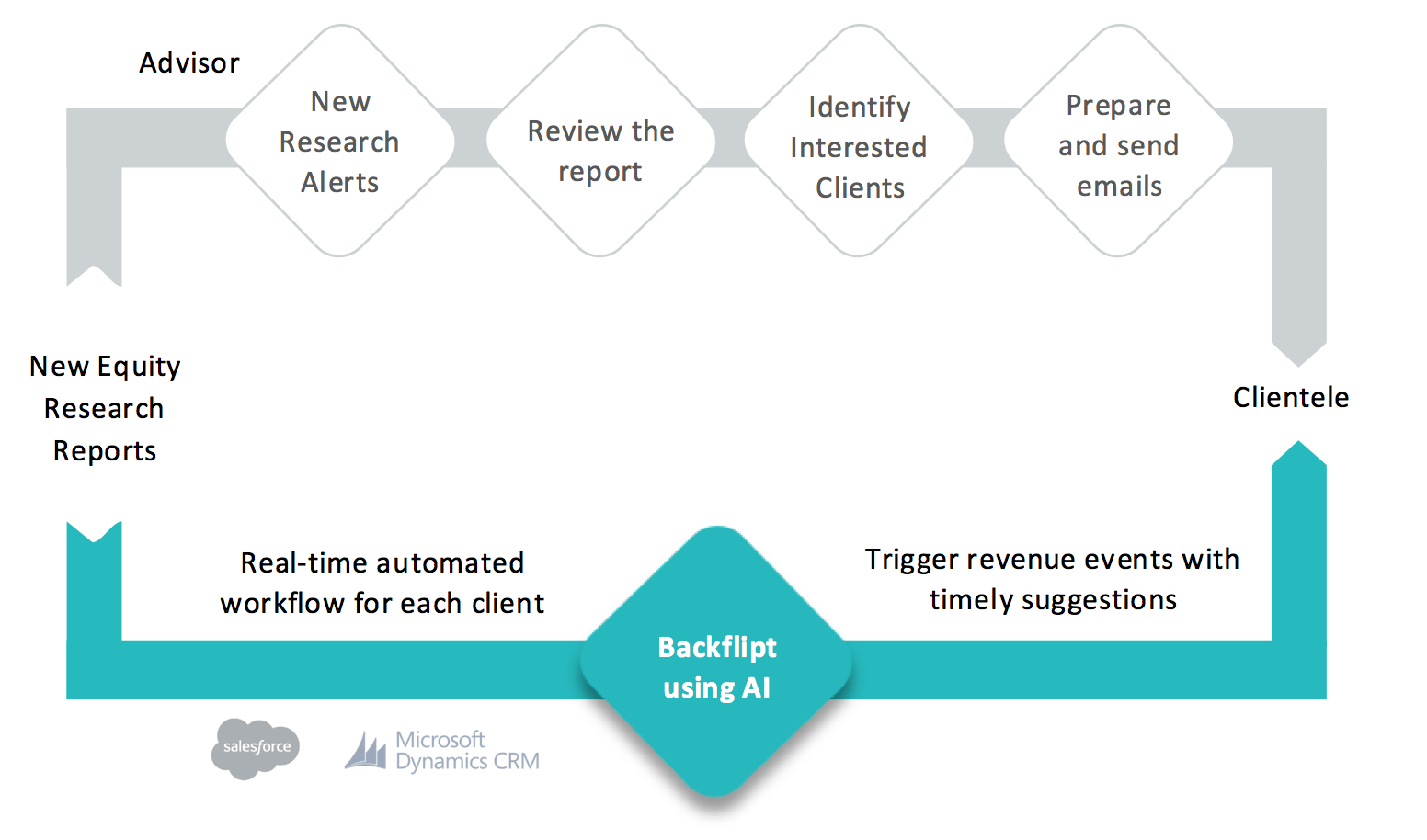 Machine learning that transforms research alerts into triggers for client conversations
Email Workflow empowering Advisors to engage in real-time, save time and increase productivity
Research notes are published on a daily basis; these reports have a short shelf life, especially Equity Research reports; To create a significant Client Impact, Equity research reports have to be disseminated to the interested clients in real-time.
Overlooking new reports alerts and relying on inefficient manual workflow process to identify Interested clients' may result in a missed opportunity to advise. Manual processes not only lead to missed opportunities but also result in the loss of revenue.
Why rely on inefficient process to disseminate the new research?
Let Backflipt's unsupervised machine learning techniques recommend relevant consumers for the latest research in real-time.
Do you want to know how 451 Research is rolling out Backflipt? – Let us know, we will be glad to setup a call with the Analyst.
How does Backflipt do this?
Backflipt unsupervised learning engine tracks client's interests from salesforce notes and emails conversations to match the newly available research material in real-time. Backflipt automatically initiates a workflow process bringing in the newly created content into active email conversations individually with each Advisor. Advisors need not track equity research alerts, nor they need to put in effort in manually identifying the interested clients.
Backflipt AI recommendations align with the strict privacy and security guidelines for advisor and client relationships.
Benefits
Create a greater Client Impact – By increasing the touchpoints with clients, build a trusted relationship between the advisors and clients by sharing relevant equity research in real-time. Create the WOW effect with your clients.
Increase Revenue – Don't lose out on an opportunity to execute a timely Equity transaction; Use AI and Machine Learning Techniques to trigger actions.
Increase the Subscription usage by using AI techniques to precisely alert the interested institutional subscribers on the availability of new research, drive the dissemination accurately and increase the consumption.
"Backflipt differentiates itself by its machine learning algorithms that analyze data and context of customer preferences and interests from emails, recommend contextually relevant content and detect new events that provide opportunities to escalate customer engagement."
Sheryl Kingstone
Research Director, Business Applications