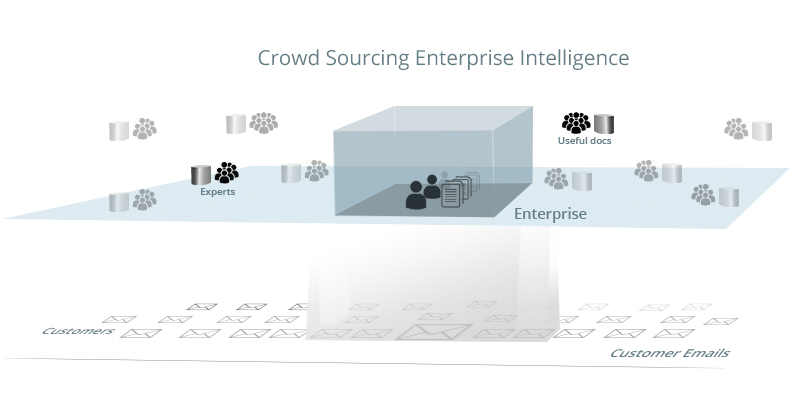 Enterprise intelligence is the accumulated knowledge of the employees of the organization and the content they have generated.  Over a period of time, this knowledge gets locked in silos of departmental boundaries.  This results in duplication of effort and ineffective content utilization.
Crowdsourcing enterprise intelligence is the method by which collaboration tools can expand the scope of knowledge beyond the confines of a conversation and its immediate participants. If you are discussing a problem, the tool should help you to crowd source the right expertise to resolve the problem. It should intelligently suggest people to reach out to. The list of people with the right expertise is built based on their reputation to resolve issues.  This unlocks the knowledge silos by automatically finding the right expertise regardless of organizational boundaries.
Similarly, recommendations can be made for documents. Based on your content consumption characteristics, the system recommends relevant documents residing in various content repositories. If you have shared a datasheet with a customer, the system should trigger a recommendation for a relevant case study or a white paper to be shared with the customer. These recommendations should not rely on curating documents by tagging them and placing them in a centralized repository.  Instead, they should reach directly into the content wherever it is stored. This truly unlocks the content silos. By crowdsourcing enterprise intelligence in collaboration, users can enjoy these benefits without changing their regular work habits.
Collaboration tools are becoming the communication hubs inside organizations. They are fast becoming the standard system of engagement for internal teams. By building a new collaboration dimension around email conversations, even the external customers interactions can be driven from the same communication hub.  On top of this, the effectiveness of collaboration tools can exponentially increase by using the power of crowdsourcing within the enterprise.